Since I started working for the aviation company in the Central Park building at Riva Caccia in the autumn of 2002, every pay day I would pass in Ristorante Grand Café Al Porto in via Pessina 3, Lugano to buy mini-cakes for my daughters. The very tall Swiss German lady knows me and she would often ask me how was work and how are my two growing, older daughters. There were days too that I would buy a torta al limone (mini Madeira cake with lemon flavour) and that would be my small packed lunch or snack. Our most favourite cake is the desiderio al cioccolato: 
During birthday occasions at home, I would buy a personalised cake (either with coffee flavour or chocolate mousse)  or simply a mini slice of torta al limone, and two desiderio al cioccolato for our family trio celebration: my two daughters and me.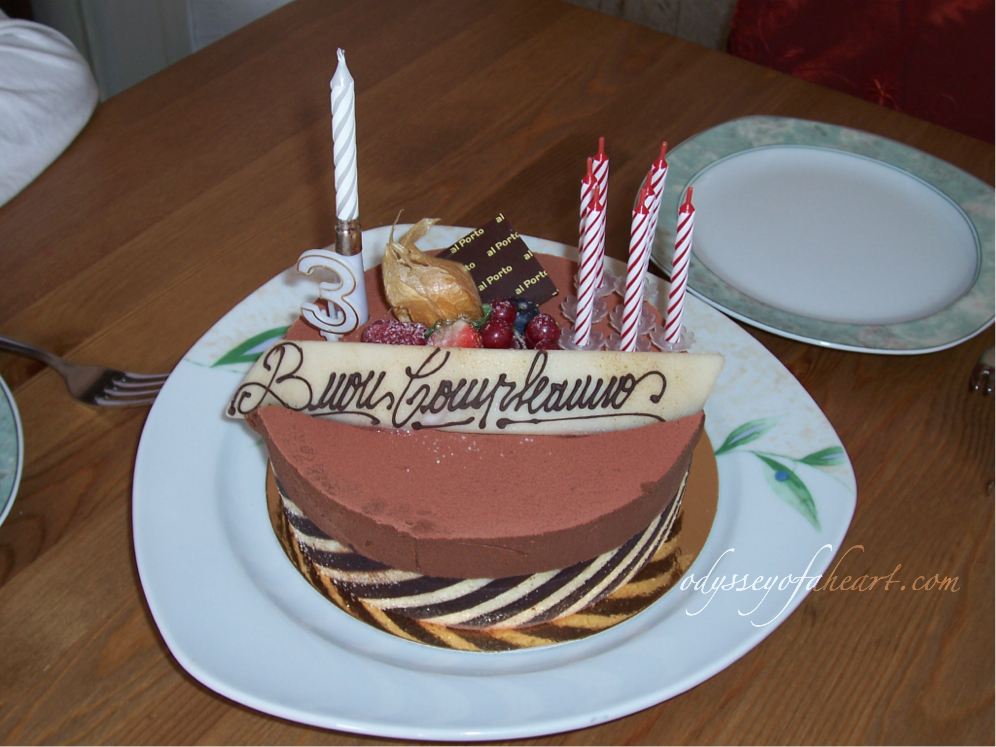 Confiserie al Porto
It's the Confiserie al Porto which attracted me most as they are set in a very tempting array pastries in a counter in between history laden walls of the restaurant.
These famous hand-made baked cakes with mouth watering praline, specialties like the traditional Panettone or Amaretti biscuits, either you choose them simple or with delicious fillings flavoured with vanilla, orange, kirsch, rum or orange. They have sweet Truffles d'Or, which have won prizes, Grand Cru chocolate and other traditional specialty breads.
Here are pictures I took in October 2015 and October 2016: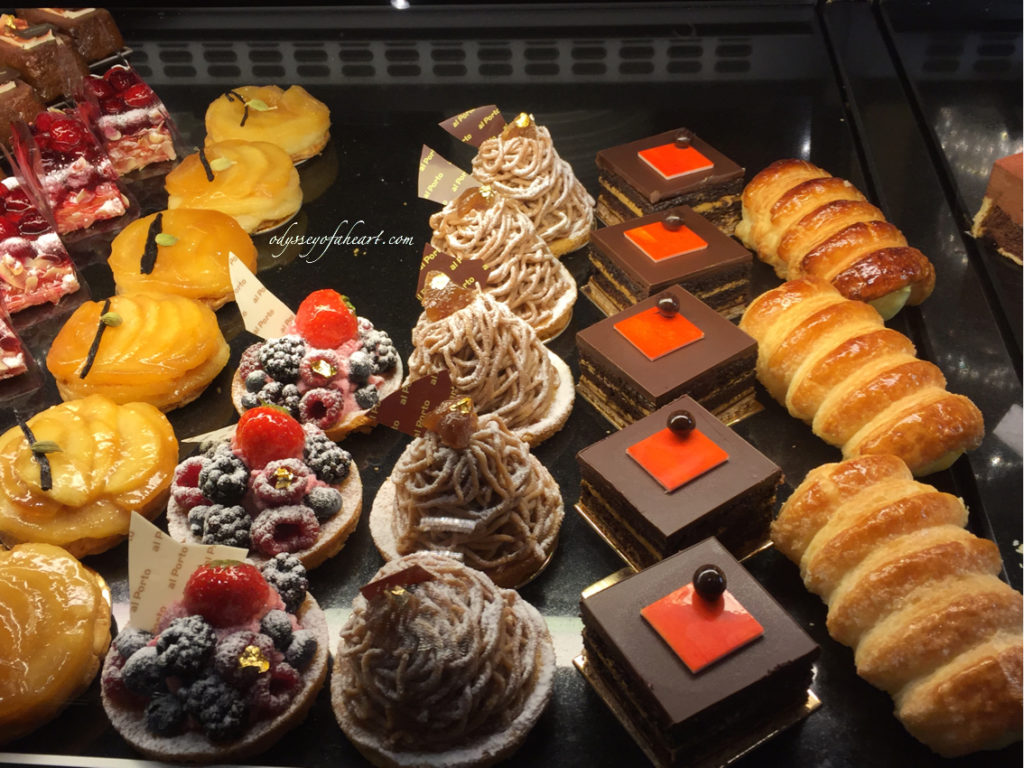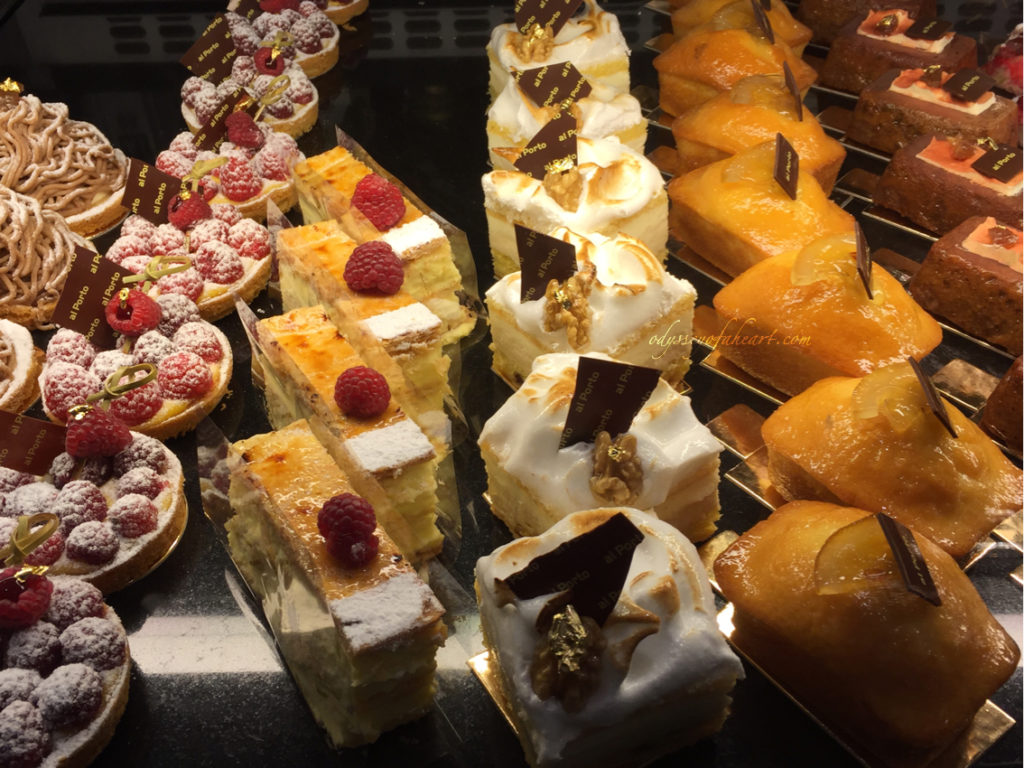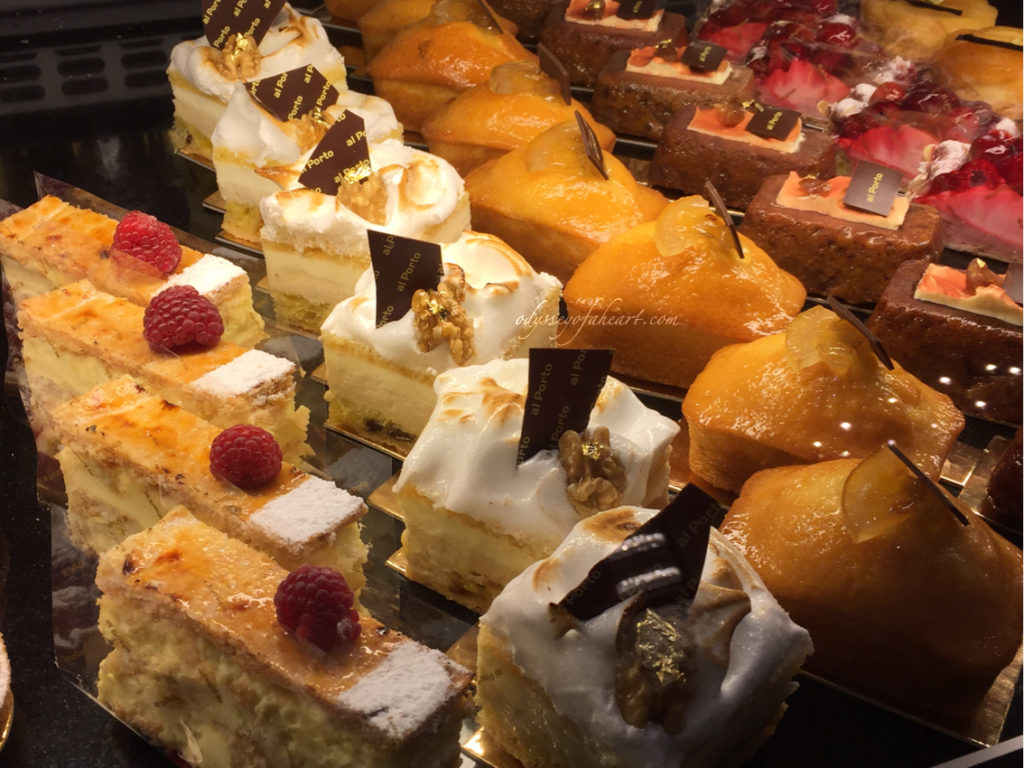 Book Setting of Angelica Hopes
The delicious torta al limone and desiderio al cioccolato, and a special corner of the restaurant are my special mentions and setting in my two books memoir: 1. Landscapes of a Heart, Whispers of a Soul 2. Odyssey of a Heart, Home of a Soul.  It is also the setting of my WIP (work-in-progress) novels: 1. M.S.P., a chick-lit novel  2. A.W.S. , an inspirational romantic novel.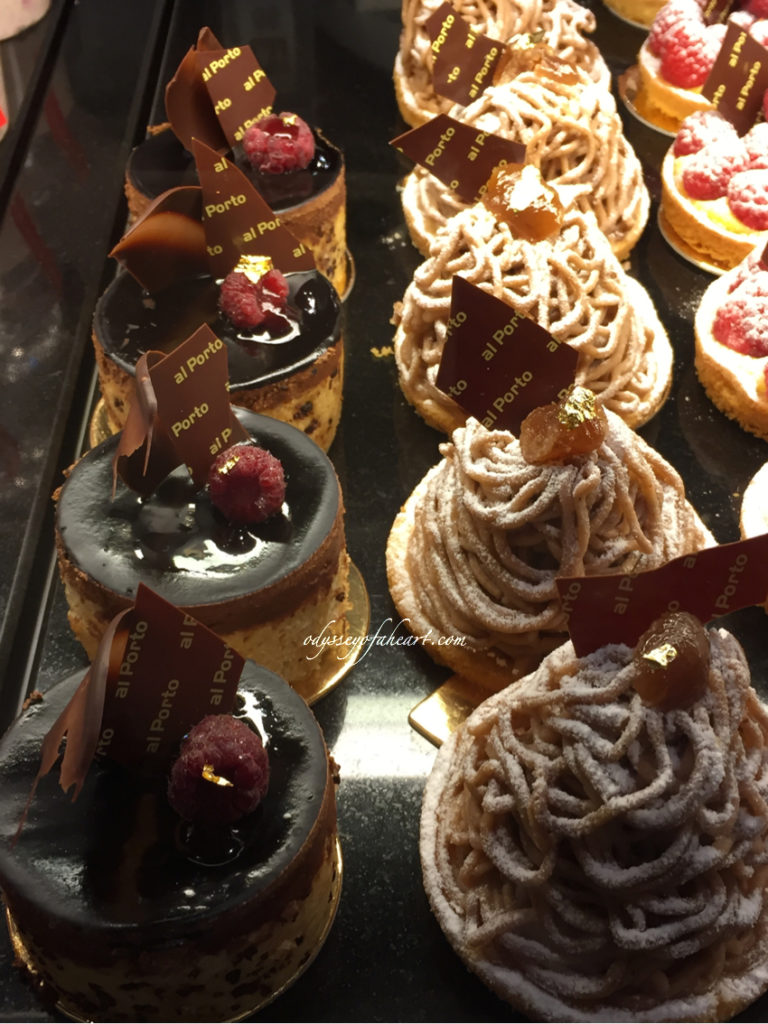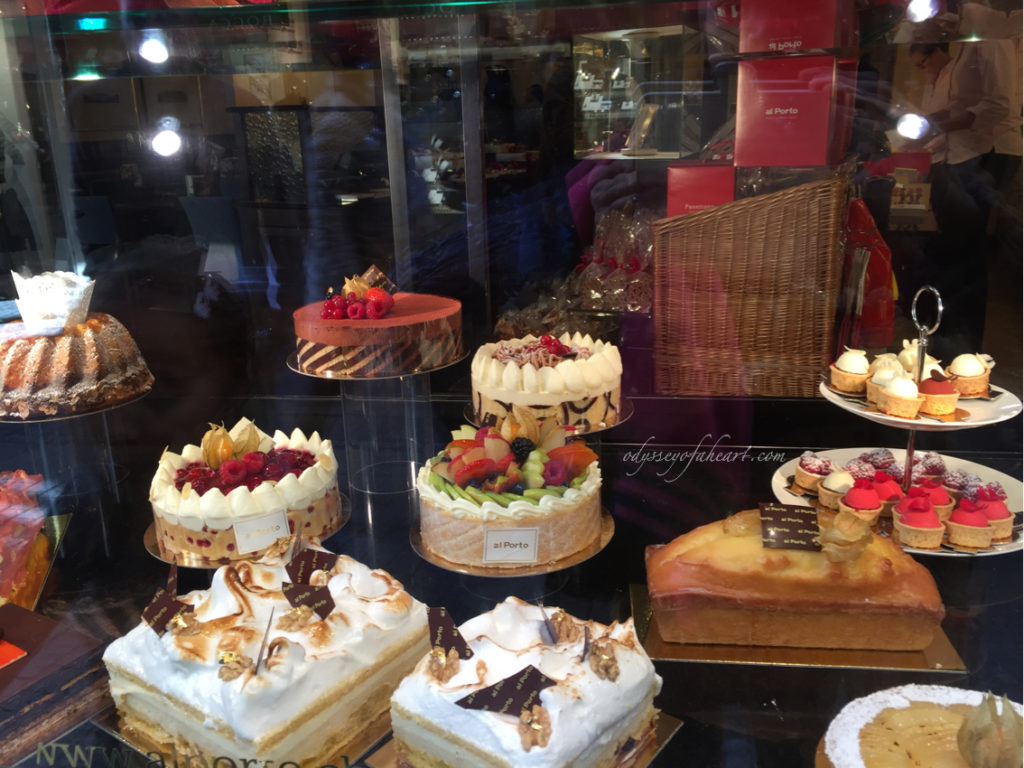 Dining in Ristorante Grand Café Al Porto
During the two consecutive autumn school vacation of my daughters, we passed in Ristorante Grand Café Al Porto in 2015 and this year, we took light lunch to give a space for a cup of cappuccino and delicious desiderio al cioccolato. I ordered small portion of pasta col pomodoro, bruschetta, ravioli and gnocchi con salvia are very good, light, delicious and distinctively homemade.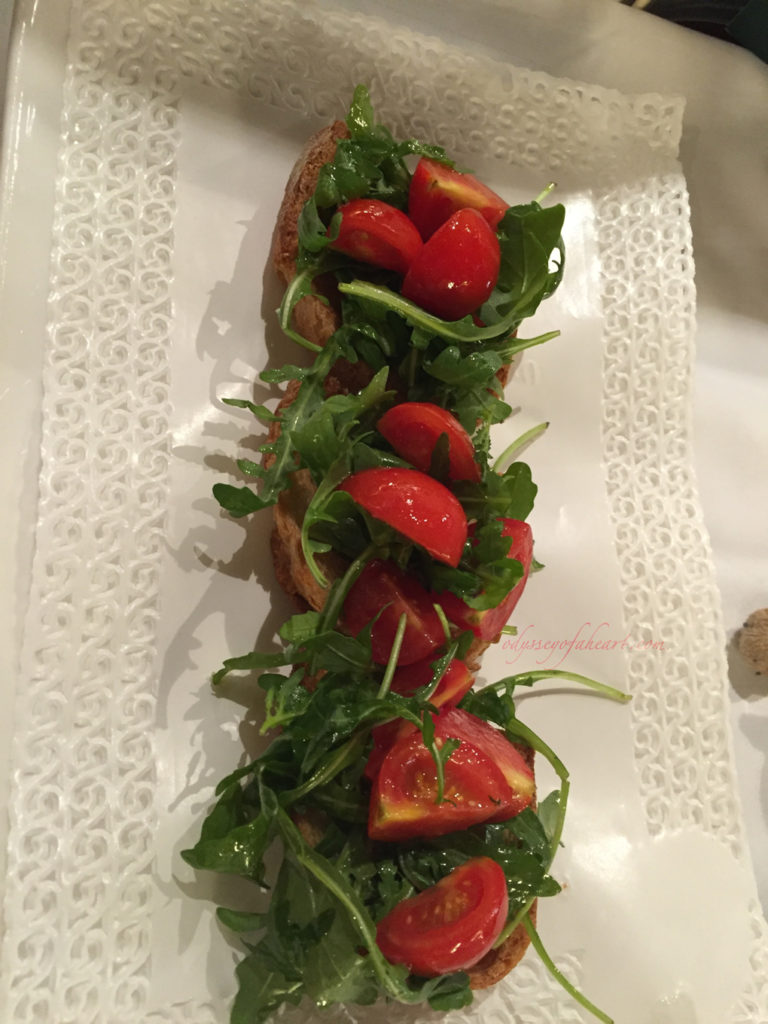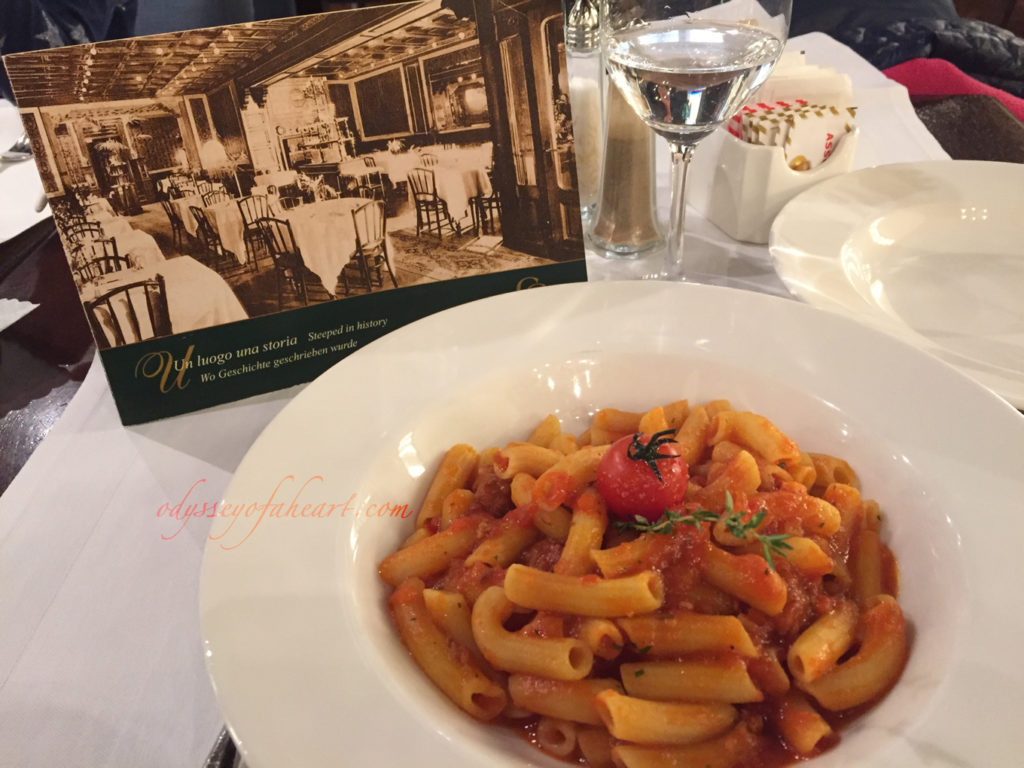 History
Originally it was Lugano's salon, established in 1803 which attracted politicians, scholars, artists and high-profile personas.
"Not much is known about the nineteenth century. However, the restaurant, which also functioned as a hotel, was known and appreciated by a vast clientele, both local and foreign.
As in the previous century, numerous Italian exiles – including illustrious names – found accommodation in the rooms on the upper floors of the town's meeting place. During this period the restaurant maintained and consolidated its image as a prestigious place to meet.
In March 1945, while the restaurant operated as usual, in the "Cenacolo" room on the first floor a secret, high-level meeting was held between German and Allied officials at which the foundations were laid for the surrender signed at Caserta on April 29th, 1945. The bloody war was finally over, saving northern Italy from untold suffering as well as from the immense destruction that a "scorched earth" policy would have caused.
The jewel of the Grand Café Al Porto is the Florentine Cenacolo, originally the dining hall of a medieval convent.The wooden ceiling, is an original of the 16th century, while the frescoes in the magnificent "Cenacolo fiorentino", are attributed to the painter Carlo Bonafedi. These historical walls provide a unique and exclusive setting for special events and banquets with 10 to 40 guests.
For two centuries, the historic building has welcomed many illustrious personages such as Prince Vittorio Emanuele, Aristide Briand, Sir Joseph Austen Chamberlain, Gustave Streseman, Erich Maria Remarque, Clark Gable, the Aga Khan, Sofia Loren and Carlo Ponti."  (Text Source: Ristorante Grand Cafe Al Porto)
Banquets, Receptions, Meeting/Function Rooms
You can celebrate with style in this restaurant as they have elegantly appointed rooms on the first floor, ideal for meetings, receptions and banquets. Reservations can be done during the day for 2 to 45 persons or in the evening for receptions and banquets for 20 to 80 guests. Their function rooms which are all air conditioned are named Patio, Cenacolo Fiorentino, Salotto, and Biblioteca.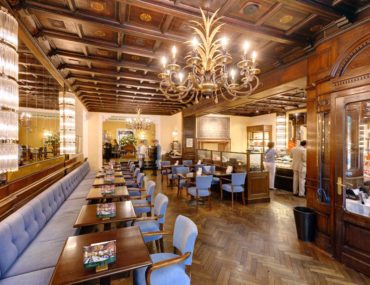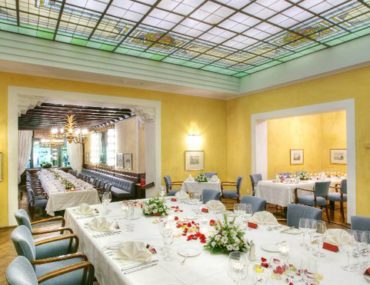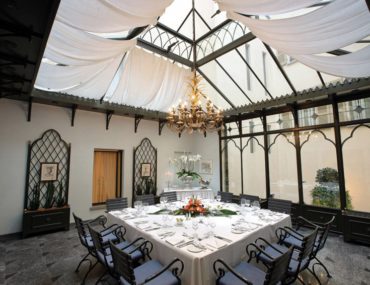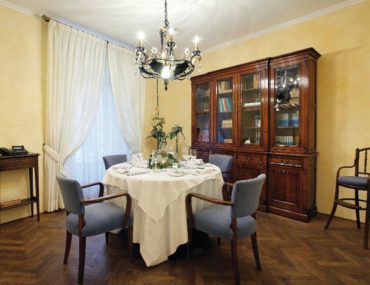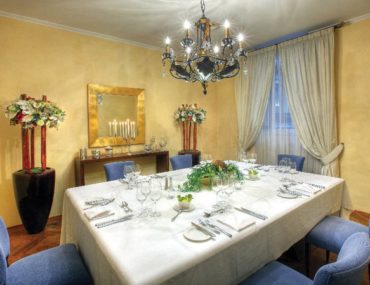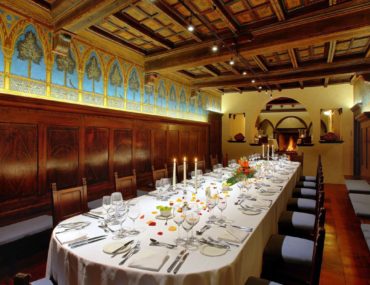 Other Branches of Al Porto Cafés and Boutiques

Al Porto, Ascona
Viale Monte Verità 11, 6612 Ascona Photo credit: alporto.ch

You can also order from their on-line boutique alporto.ch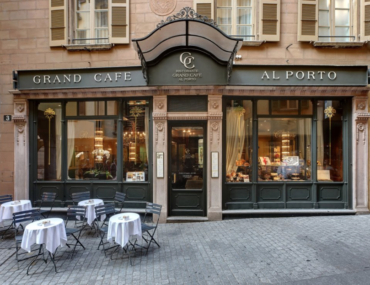 So if you will be around Lugano area in canton Ticino of Switzerland, after a morning or afternoon walk around the city and Lungo Lago, give yourself and your love ones a special memorable sweet temptations' treat and delicious dishes at Ristorante Grand Café Al Porto, where the coffee, pastries and cakes are of the finest quality.